This is my first Into the Word Wednesday post. I'm thinking I will like this better than Wordless Wednesday. Share and encourage or
be
encouraged and challenged by linking up with me at GoodMorningGirls.org or by grabbing a button for Into the Word Wednesday and following some of the wonderful ladies. You can start by checking out
Becky @ Beauty for Ashes
.
Women around the world are IN THE WORD!
Every Wednesday we will have a link-up. If you are a blogger we invite you to link-up any blog posts that you have written about your quiet time that week. We ask that you put our button in the post or on your sidebar so we can find each other. We do not have code for this link up button. Just right click and save as. Then link it to
http://www.goodmorninggirls.org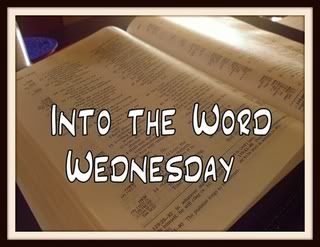 Since this is my first post, I will try to make it short and sweet. God's been dealing with me about contentment and believing He is who He says He is and He CAN and WILL do what He says He can do. I've been reminded of this over the past few weeks. Isn't it so good when our loving Father sends a gentle or reminder that He hasn't forsaken us. He knows just where we are, and He hasn't given up on us no matter how much we've messed up or maybe even, how much we haven't cared if we messed up. If we belong to Him, if we've believed in His good news and put our trust in His payment for our sins through Jesus Christ, we are HIS. He will cause all this to work together for the good of those who love Him.
And we know that all things

work

together

for

good

to those who love God, to those who are the called according to His purpose. Romans 8:28 NKJV
I've been reminded that God is
FAITHFUL
, and that He was not aimless or without purpose when He brought me into this world.
God

is

faithful

, by whom you were called into the fellowship of His Son, Jesus Christ our Lord. 1 Corinthians 1:9 NKJV
For

I

know the thoughts that

I

think toward

you

, says the LORD, thoughts of peace and not of evil, to give

you

a future and a hope. Then

you

will call upon Me and go and pray to Me, and

I

will listen to

you

. And

you

will seek Me and find Me, when

you

search

for

Me with all

you

r heart.

Jeremiah 29:11-13
I used to have these grand ambitions to be an evangelist (even before I was born again, imagine that)!! Or that I would develop my singing voice and become better at piano and end up leading worship somewhere. Or that I'd use my love for drama in some way, or writing...or photography. Although I dabble in photography, those things that I had planned and wanted to come to fruition in my life have not taken place.
I sometimes feel like I should be doing more for the kingdom, or that I'm not using the talents God's given me, or that I needed to work much harder at being SuperMom & SuperWife while being a stay-at-home homeschooling mom. I sometimes feel like I settled for this "calling" in life (as if I am in complete control of my destiny).
God had to remind me that He hadn't forgotten about me. He sees me. He has a future for me. I may not know what it is and it may not be what I would have dreamed up for myself, but His thoughts about me haven't "slipped His mind."
In reality, I have forgotten and then doubted HIS FAITHFULNESS.
I had to make a renewed commitment to
stop believing what was contrary to God's word
and make a
CHOICE
to
believe His word as TRUTH
even when everything within me or around me says otherwise. I had to choose to search for Him with all my heart and not expect His blessings to always just fall in my lap.


Have you forgotten that God is faithful, even in
YOUR
circumstances? He hasn't forgotten you. He loves you with an everlasting love and has plans of peace and not of evil for you life. He is faithful to finish the work He has started in us and I choose to believe His word.
Link up your
Into the Word Wednesday
posts here and don't forget to visit these other ladies!
Kelly at the Houtz House Party
Sarah at Fontenot Four
Falen at Upward Not Inward
Kelly at Exceptionalistic